Bill Pay
UCCU's Bill Pay puts you in control of your monthly finances, while saving you time and money. You can make payments to your mortgage company, utilities, and other accounts without ever writing a check or wasting stamps and envelopes.
Click below to see the exciting features of UCCU's Free Bill Pay.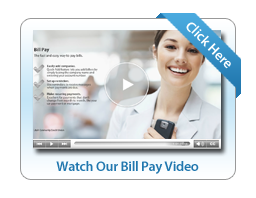 Bill Pay:
Is Free and Convenient. You can pay any company, person or organization within the United States.
Helps you stay organized. You control the amount and when bills come out of your account. Bill Pay history summarizes quickly what was paid when and for how much.
Is fast, easy and safe. No more wasted stamps, envelopes or checks. Plus, less of your personal information is floating in the mail system helping you prevent ID theft.
Start using UCCU's FREE Bill Payer today by simply logging into Personal Branch and clicking on "Bill Pay". Onscreen instructions will walk you through a simple setup process. If you have any questions during the setup process feel free to call us at (801) 223-8188 or (800) 453-8188.
Tracking Bill Pay Payments
For added peace of mind all payments made through Bill Pay are assigned a confirmation number. If you ever have a question about a payment contact our Personal Branch support team at (801) 223-8188 or (800) 453-8188 during regular business hours and they assist you.