Compare Business Checking Accounts
Checking accounts to fit the needs of your business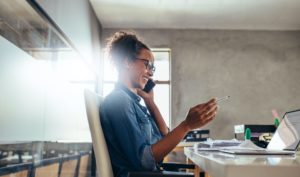 Compare Business Checking Options:
1 Monthly maintenance fee for business checking may be waived. $5.00 Basic Checking fee waived if enrolled in e-statements, $10 Growth Checking fee waived with $1,500 average balance for the applicable statement cycle. $25 Premier Checking fee waived with $20,000 average balance for the applicable statement cycle.
2 Transaction Limit is defined as checks written from the account. Any Bill Pay that is sent via check will count towards your checks written count. Bill Pay payments that are sent or converted as an electronic payment will not be added toward your written check count..
3  Charges that are offset by earnings credit may include the following and can be changed by the Credit Union at any time: per item excess written check fee, excess cash handling fee, ACH or Payroll monthly fee (does not include excess item fees), positive pay monthly service fee, and remote deposit capture monthly service fee. Earnings credit will be calculated on the average available collected balance.  The earning credit rate is determined by the credit union and may change without notice. If the statement cycle earnings credit is equal to or exceeds the charges, it will result in no charge for the statement cycle. Any excess credit will not carry over to future statement cycles.  If the charges in the statement cycle exceed the earnings credit for the applicable statement cycle, the amount charged to the account will be reduced by the earnings credit amount.
Business Checking Options:
Basic Checking
Growth Checking
Premier Checking
Enterprise Checking
At UCCU, every Business Checking Account includes…
Online and Mobile Banking
VISA Debit Card, with no Annual Fee