Begin Your UCCU Career
Love Where You Work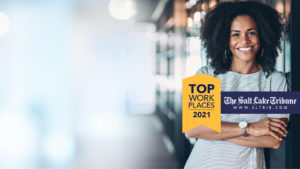 UCCU was recognized as one of the top places to work in the nation by Glassdoor!
At Utah Community Credit Union we're passionate about serving our members along the Wasatch Front and across the world! UCCU continues to be one of the fastest-growing credit unions in the nation and is not only a great place to work, but it's also a great place to make a difference!
Benefits and Perks
Career Advancement Opportunities
Employee Appreciation Program
Wellness Program including admission to participating Recreation Centers
UCCU Swag
Retirement Plan*
Tuition Reimbursement*
Account Discounts
Loan Discounts
Paid Holidays*
PTO – Sick and Vacation*
Jean Friday
Medical Insurance*
Dental Insurance*
HSA Plan*
FSA (Cafeteria Plan)
About UCCU
UCCU was founded in 1956 in Provo, Utah as a not-for-profit financial cooperative that would be owned by the people it serves and dedicated to the ideal of "People Helping People." The financial institution is and has always been owned by its members and led by a volunteer board of directors.
Briant Jacobs, a faculty member at Brigham Young University (BYU), discovered a new concept that would allow members – not stockholders – to own shares in their financial institution. Less than a year later, Briant and six of his co-workers each contributed $5 out of their own pockets to found UCCU (originally named BYU Employees Federal Credit Union.) Because the credit union couldn't afford to purchase a vault, cash was kept in a locked room and placed in a cast iron bathtub, covered with a sheet of asbestos to protect it from fire.
In 1976, with a staff of 30 full-time employees and assets of $25 million, the credit union moved off campus to its new Stadium Branch office, expanded its field of membership, and changed its name to Universal Campus Credit Union. During the 1980s, UCCU's assets grew to over $100 million, employees grew to over 100 and membership reached nearly 50,000. In February 2000, Universal Campus Credit Union changed its name to Utah Community Credit Union to better reflect the field of membership it serves.
UCCU now employs over 500 individuals, has grown in assets to exceed 1.7 billion dollars, and proudly serves over 200,000 members. From humble beginnings, UCCU has grown to become one of the largest credit unions in the state of Utah.
"UCCU is hands down the best place I have ever worked. My voice has always been heard, and I love the work I do."
– Chris, since 2017
"I have worked for several organizations in my life. I have never worked for a company that cares more about its customers than it does the bottom line, until I came to UCCU. I love working for an organization that puts people first."
– Sheldon, since 2005
"I have been a member of UCCU for over 40 years and I have loved working here for over 22 of those years. I love that we can help members with the financial part of their lives. UCCU is the best!"
– Karen, since 1997
*For more information please contact UCCU's Human Resource department by calling (801) 223-8170.